Promotional photos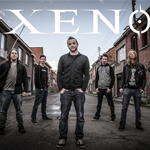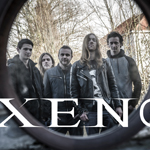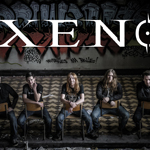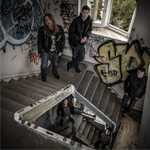 English biography
Xeno is a collective being. The bringing in existence of a way of thinking, a heritage. Something new, something out of the blue. Freedom and pride reigns in making music that feels just right. Something you have not seen or heard before. In the origin of metal, Xeno is growing towards their own stubborn direction. The incorporation of a keys-section helps realizing a more theatrical presentation, supported by the character and waywardness of the other bandmembers. The songs take you on an individual journey filled with various grooves, melodies and surprising rhythms.
In the year 2012 the name Xeno arose from the ashes of Semiazas, with this spawning the urge to portray whatever they find that holds importance. With a new line-up and a fresh look on things, this goal should be anything but unreachable. Whatever the future will bring for them is unclear, being an obsolete piece of information since the road holds more importance for Xeno than the destination. After collecting enough material to ascend the stage, Xeno is ready to get out there!
Nederlandse biografie
Xeno is een collectief bestaan. Een neerzetting van een gedachte, een erfgoed. Iets nieuws, iets vreemds. Er heerst vrijheid en trots om muziek te maken die goed aanvoelt. Iets wat je nog niet hebt gezien of gehoord. In de grondvesten van het metalgenre groeit Xeno koppig een eigen kant op. De incorporatie van een toetsensectie draagt bij aan een theatrale presentatie, ondersteund door de karakters en dwarsheden van de overige bandleden. De nummers nemen je mee op een individuele reis gevuld met grooves, melodieŽn en verrassende ritmes.
Uit de as van de band Semiazas ontstond in het jaar 2012 de naam Xeno. Hiermee ontstond ook de drang om uit te dragen waar ze voor staan, met een nieuwe line-up die zorgt voor frisse inbreng. Wat deze nieuwe reis gaat brengen weten ze zelf ook niet, het gaat ze dan ook niet om de eindbestemming. Na het verzamelen van genoeg materiaal om verscheidene podia te betreden zijn ze nu klaar om de omgeving te verkennen!
Interviews
Prog-sphere about: "Personal Strengths"
BDP Metal about: "Recording and songwriting"
Rocking Charts about: "Atlas Construct & Scene"
3voor12 about: "Atlas Construct release" (Dutch)